U.S. stock futures higher  in pre-market trading for Tuesday, September 18.The Dow Futures is trading at 26,159.00  up with +0.22% percent or  +57.00 point.The S&P 500 Futures is trading at 2,901.75 up with +0.20% percent or +5.75 point.The Nasdaq Futures is trading at 7,486.75  up with +0.29% percent or +21.75 point.
In overnight trading in the Eastern Hemisphere, Japan's Nikkei 225 is trading at 23,420.54  up with +1.41% percent or +325.87 point. Hong Kong's Hang Seng is trading at 27,073.57  up with +0.52% percent or  +140.72  point. China's Shanghai Composite is trading at 2,699.95  up with +1.82% percent or  +48.16 point. India's BSE Sensex is trading at 37,543.18 with a loss of -0.11%  percent or – 42.33  point at 12:15 PM.The FTSE 100 is trading at 7,310.52 up with +0.12% percent or +8.42 point. Germany's DAX is trading at 112,125.32  up with +0.24% percent or  +28.91  point. France's CAC 40 is trading at 5,363.31   up with +0.27% percent or  +14.44 point. The Stoxx Europe 600 is trading at 378.70  up with  +0.10% percent or +0.34 point.
Tuesday's Factors and Events
The latest action aggravates a growing trade dispute between the world's two largest economies, with Beijing prepared to impose sanctions of its own. In fact on Tuesday, China stated that it had no choice but to retaliate, in order to safeguard its rights and interest in a free trade world.
The Wall Street Journal had reported earlier that Trump was set to move ahead with tariffs on $200 billion in Chinese goods. The report followed other news outlets saying that U.S. officials were trying to restart U.S.-China trade talks.
For the day the Dow is trading at 26,062.12  with a loss of -0.35% percent or -92.55 point. The S&P 500 is trading at 2,888.80   with  a loss of -0.56% percent or -16.18 point. The Nasdaq Composite is trading at 7,895.79  with a loss of -1.43%percent or 1-14.25 point.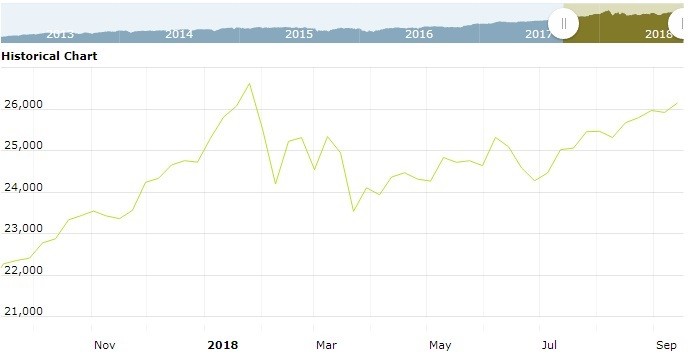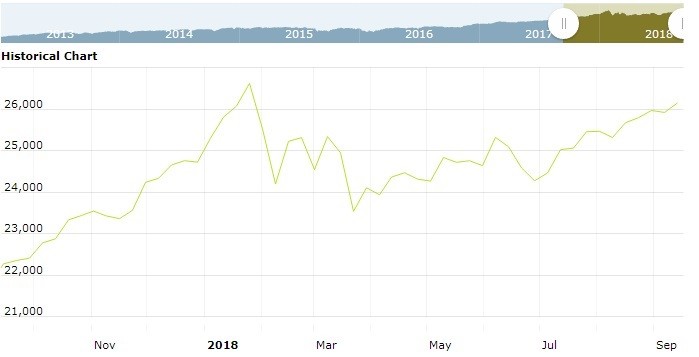 Other leading market index closes included the small-cap Russell 2000 Index closed at 1,703.55  with a loss of -1.06% percent or -18.17point; the S&P 600 Small-Cap Index closed at 1,075.21 with a loss of -1.03% percent or -11.14 point; the S&P 400 Mid-Cap Index closed at 2,028.49  with a loss of -0.88% percent or -18.07 point; the S&P 100 Index closed at 1,277.57  with a loss of -0.62% percent or -8.03 point; the Russell 3000 Index closed at 1,714.98 with a loss of -0.66% or  -11.37 point; the Russell 1000 Index closed at 1,602.33  with a loss of -0.63% percent or -10.10 point;