U.S. stock futures higher  in pre-market trading for Wednesday, September 26.The Dow Futures is trading at 26,572.00  up with  +0.20% percent or  +52.00 point.The S&P 500 Futures is trading at 2,927.50  up with  +0.21% percent or +6.25 point. The Nasdaq Futures is trading at 7,614.00  up with  +0.25% percent or +18.75 point.
In overnight trading in the Eastern Hemisphere, Japan's Nikkei 225 is trading at 24,033.79 up with +0.39% percent or +93.53 point. Hong Kong's Hang Seng is trading at 27,840.95 up with +1.24% percent or  +341.56 point. China's Shanghai Composite is trading at 2,806.81  up with +0.92% percent or  +25.67 point. India's BSE Sensex is trading at 36,542.61 with  a loss of -0.30% percent or -109.45 point at 12:15 PM.The FTSE 100 is trading at 7,510.00 up with +0.032% percent or +2.44 point. Germany's DAX is trading at 12,349.78  with a loss of – 0.20% percent or -24.88 point. France's CAC 40 is trading at 5,494.66  up with +0.28% percent or  +15.56 point. The Stoxx Europe 600 is trading at 383.98  up with  +0.02% percent or +0.09  point.
Wednesday's Factors and Events
President Donald Trump said at the United Nations General Assemble the U.S. "will no longer tolerate abuse" on trade. "We will not allow our workers to be victimized, our companies to be cheated and our wealth to be plundered and transferred," Trump added.
Trump's comments came after U.S. Trade Representative Robert Lighthizer said the United States was prepared to move ahead on a trade deal with Mexico that excluded Canada. Lighthizer said negotiations with Canada are at an impasse.Shares of Ford and General Motors fell 2.1 percent and 3.5 percent, respectively, following Lighthizer's comments.
For the day the Dow is trading at 26,492.21  with a loss of  -0.26% percent or -69.84 point. The S&P 500 is trading at 2,915.56 with a loss of -0.13% percent or -3.81 point. The Nasdaq Composite is trading at 8,007.47  up with  +0.18% percent or +14.22 point.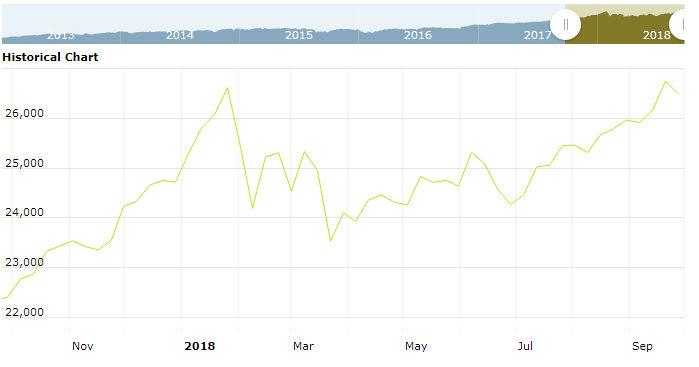 Other leading market index closes included the small-cap Russell 2000 Index closed at 1,708.80 up  with +0.20% percent or +3.49  point; the S&P 600 Small-Cap Index closed at 1,067.66 up with +0.088% percent or  +0.94 point; the S&P 400 Mid-Cap Index closed at 2,030.62  with a loss of -0.076% percent or ?1.55 point; the S&P 100 Index closed at 1,293.91  with  a loss of -0.062% percent or -0.80  point; the Russell 3000 Index closed at 1,728.85  with  a loss of -0.075% percent or  -1.30 point; the Russell 1000 Index closed at 1,615.94 with  a loss of -0.098% percent or -1.58 point;