U.S. stock futures higher  in pre-market trading for , October 04.The Dow Futures is trading at 26,778.00  with a loss of -0.35% percent or  -94.00 point. The S&P 500 Futures is trading at 2,919.25  with a loss of -0.42% percent or -12.25 point.The Nasdaq Futures is trading at 7,620.00 with a loss of  -0.58% percent or -44.75 point.
In overnight trading in the Eastern Hemisphere, Japan's Nikkei 225 is trading at 23,975.62  with  a loss of -0.56% percent or -135.34 point. Hong Kong's Hang Seng is trading at 26,635.39  with  a loss of -1.68% percent or -455.87 point. China's Shanghai Composite is trading at 2,821.35  up with +1.06% percent or  +29.58 point. India's BSE Sensex is trading at 35,357.91 with a loss of – 1.72% percent or -70.09 point at 12:15 PM.The FTSE 100 is trading at 7,441.82  with a loss of  -0.91% percent or -68.46 point. Germany's DAX is trading at 12,264.03 with a loss of – 0.19% percent or -23.55 point. France's CAC 40 is trading at 5,435.70 with a loss of -1.01% percent or -55.70 point. The Stoxx Europe 600 is trading at 381.11  with a loss of -0.71% percent or -2.74 point.
Thursday's Factors and Events
Investors sold stocks sensitive to rising rates, including utilities and consumer product companies with large dividends like Procter & Gamble. Shares of banks, which tend to make more money in periods of rising rates, gained with J.P. Morgan Chase adding almost 1 percent on the day.
"Financials are trying to bounce," said Mark Newton, managing member at Newton Advisors. "This group has been under relentless pressure over the last couple weeks, so it's tough to make too much of today's move, but is helping markets to rally a bit more."
For the day the Dow is trading at 26,773.94  up with +0.46% percent or +122.73 point. The S&P 500 is trading at 2,923.43 with a loss of  -0.040% percent or -1.16  point. The Nasdaq Composite is trading at 7,999.55  with a loss of -0.47% percent or -37.76 point.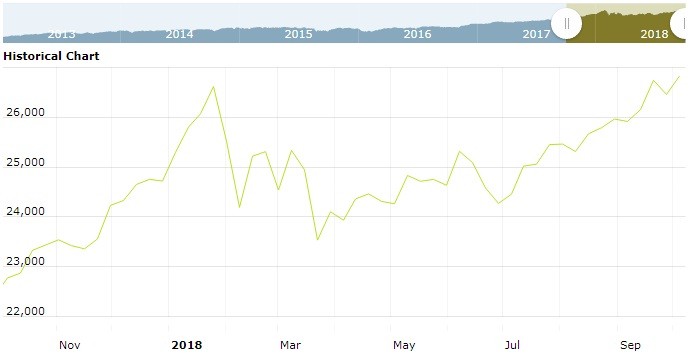 Other leading market index closes included the small-cap Russell 2000 Index closed at 1,656.04  with a loss of  -1.01% percent or -16.95 point; the S&P 600 Small-Cap Index closed at 1,035.42   with a loss of -1.07% percent or  -11.22 point; the S&P 400 Mid-Cap Index closed at 1,996.55  with a loss of -0.38% percent or -7.64 point; the S&P 100 Index closed at 1,301.56  up with  +0.055% percent or +0.72 point; the Russell 3000 Index closed at 1,726.47  with a loss of -0.16% percent or -2.72 point; the Russell 1000 Index closed at 1,617.66  with a loss of – 0.088% percent or -1.43 point;