U.S. stock futures Mixed  in pre-market trading for , October 05.The Dow Futures is trading at 26,675.00  up with +0.09% percent or  +23.00 point.The S&P 500 Futures is trading at 2,908.75  up with +0.03% percent or +1.00 point. The Nasdaq Futures is trading at 7,510.25 with a loss of -0.05% percent or -4.00 point.
In overnight trading in the Eastern Hemisphere, Japan's Nikkei 225 is trading at 23,783.72  with  a loss of -0.80% percent or -191.90 point. Hong Kong's Hang Seng is trading at 26,587.88  with  a loss of -0.14% percent or -35.99 point. China's Shanghai Composite is trading at 2,821.35  up with +1.06% percent or  +29.58 point. India's BSE Sensex is trading at 34,779.95  with a loss of – 1.11%percent or -389.21  point at 12:15 PM.The FTSE 100 is trading at 7,369.88  with a loss of  -0.65% percent or -48.46 point. Germany's DAX is trading at 12,175.58 with a loss of – 0.56% percent or -68.56 point. France's CAC 40 is trading at 5,391.52 with a loss of -0.36% percent or -19.32 point. The Stoxx Europe 600 is trading at 378.02  with a loss of -0.44% percent or -1.67 point.
Friday's Factors and Events
U.S. stock index futures were little changed on Friday as investors awaited the latest U.S. jobs data release.
On Thursday, the yield on the 10-year Treasury note notched its highest level in over seven years, following positive economic data released this week. Comments from Federal Reserve Chair Jerome Powell also pushed yields higher. Powell on Wednesday said that the Fed had a long way to go before interest rates would hit neutral, suggesting to markets that more hikes could be coming.
For the day the Dow is trading at 26,627.48  with a loss of -0.75% percent or -200.91 point. The S&P 500 is trading at 2,901.61 with  a loss of -0.82% percent or -23.90 point. The Nasdaq Composite is trading at 7,879.51  with a loss of -1.81% percent or -145.57 point.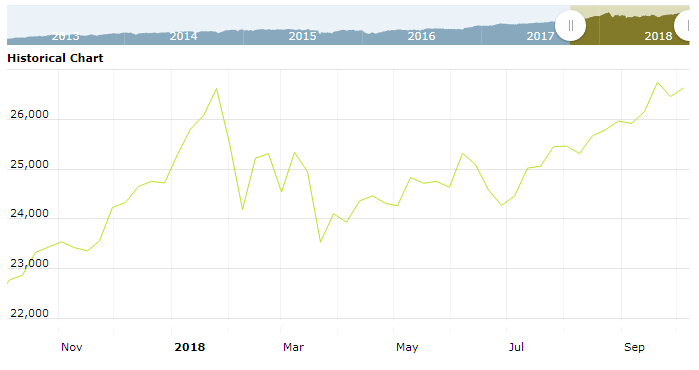 Other leading market index closes included the small-cap Russell 2000 Index closed at 1,646.91   with a loss of  -1.46% percent or  ?24.38 point; the S&P 600 Small-Cap Index closed at 1,031.79   with a loss of- 1.24% percent or -12.96 point; the S&P 400 Mid-Cap Index closed at 1,982.09   with a loss of -1.10% percent or -21.97 point; the S&P 100 Index closed at 1,291.53 with a loss of  -0.87% percent or ?11.27 point; the Russell 3000 Index closed at 1,713.39 with a loss of  -0.92% or  -15.94 point; the Russell 1000 Index closed at 1,605.135   with a loss of -0.88% percent or -14.22 point;