U.S. stock futures lower  in pre-market trading for , October 23.The Dow Futures is trading at 25,041.00 with a loss of -1.00% percent or -253.00 point. The S&P 500 Futures is trading at 2,725.00   with a loss of -1.14% percent or -31.50 point. The Nasdaq Futures is trading at 7,057.25 with a loss of -1.37 percent or -98.00% point.
In overnight trading in the Eastern Hemisphere, Japan's Nikkei 225 is trading at 22,010.78 with a loss of -2.67% percent or -604.04  point. Hong Kong's Hang Seng is trading at 25,401.42  with a loss of -2.87% percent or -751.73 point. China's Shanghai Composite is trading at 2,594.83  with  a loss of -2.26% percent or -60.05 point. India's BSE Sensex is trading at 33,997.15  with a loss of -0.40% percent or -137.23 point at 12:15 PM.The FTSE 100 is trading at 7,001.60  with a loss of -0.58% percent or -41.20 point. Germany's DAX is trading at 11,331.97 with a loss of -1.67% percent or -192.37  point. France's CAC 40 is trading at 4,991.51  with a loss of -1.22% percent or -61.80 point. The Stoxx Europe 600 is trading at 355.68  with a loss of -1.13% percent or -4.06 point.
Tuesday's Factors and Events
Bank of America declined 1.4 percent before the bell, set to add to its 7 percent loss for October as investors fretted that rising mortgage rates would crimp loan growth. Higher short-term rates may increase competition for bank deposits as well. Banks led the market lower on Monday.
"US corporate earnings season has started with more of a whimper than a bang," said Nick Colas, co-founder of DataTrek Research, in a note. "Yes, companies are beating expectations, but by less than usual."
For the day the Dow is trading at 25,317.41 with  a loss of -0.50% percent or  -126.93  point. The S&P 500 is trading at 2,755.88 with a loss of  -0.43% percent or -11.90 point. The Nasdaq Composite is trading at 7,468.63 up  with +0.26% percent or 1+9.60 point.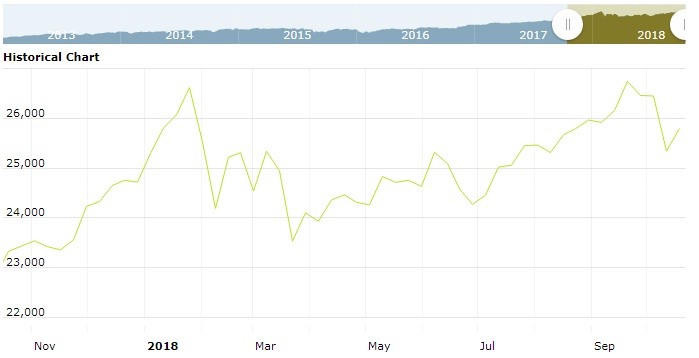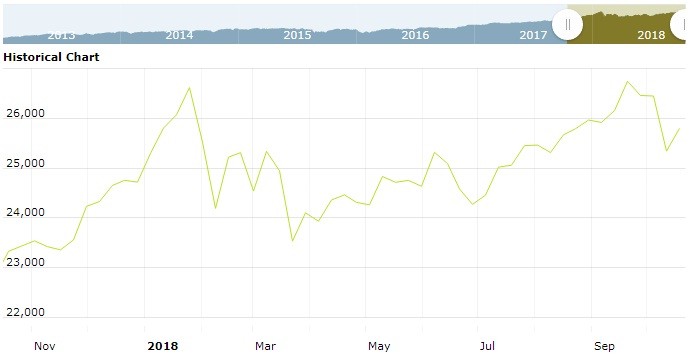 Other leading market index closes included the small-cap Russell 2000 Index closed at 1,539.50  with a loss of -0.16% percent or -2.54 point; the S&P 600 Small-Cap Index closed at 961.94   with a loss of -0.012% percent or -0.12 point; the S&P 400 Mid-Cap Index closed at 1,863.15  with a loss of -0.48% percent or  -9.02 point; the S&P 100 Index closed at 1,231.02 with a loss of -0.41% percent or -5.07 point; the Russell 3000 Index closed at 1,623.38  with a loss of -0.41% or  -6.66 point; the Russell 1000 Index closed at 1,522.44 with a loss of  -0.43% percent or -6.54 point;