U.S. stock futures lower  in pre-market trading for , October 24.The Dow Futures is trading at 25,114.00 with a loss of -0.46% percent or -116.00 point.  The S&P 500 Futures is trading at 2,730.50  with a loss of -0.57% percent or -15.75 point. The Nasdaq Futures is trading at 7,090.00 with a loss of -0.70% percent or -50.25 point.
In overnight trading in the Eastern Hemisphere, apan's Nikkei 225 is trading at 22,091.18 with a loss of -0.37% percent or -80.40 point. Hong Kong's Hang Seng is trading at 25,238.66  with a loss of -0.43% percent or -107.89  point. China's Shanghai Composite is trading at 2,603.42 up with  +0.33% percent or +8.59 point. India's BSE Sensex is trading at 33,997.93  up with +0.45% percent or +150.70 point at 12:15 PM.The FTSE 100 is trading at 7,010.78  with a loss of -0.80% percent or -55.57 point. Germany's DAX is trading at 11,314.40 up with  +0.36% percent or +40.12  point. France's CAC 40 is trading at 5,009.43  up with +0.84% percent or +41.74 point. The Stoxx Europe 600 is trading at 356.20 up with +0.61% percent or +2.16  point.
Wednesday's Factors and Events
Several factors have conspired to knock markets this week — some earnings disappointment, a brewing conflict between Italy and the European Union over budget spending, criticism of oil power Saudi Arabia over the killing of a dissident journalist and finally, worries that world growth is losing steam.
Growth worries were highlighted by the International Monetary Fund, which recently cut economic forecasts, citing trade wars and capital flight from emerging markets. Latest European PMI surveys underscored that view, showing German private-sector growth at the slowest in three years.
For the day the Dow is trading at 25,191.43 with  a loss of -0.50% percent or  -125.98 point. The S&P 500 is trading at 2,740.69 with a loss of  -0.55% percent or -15.19 point. The Nasdaq Composite is trading at 7,437.54 with a loss of -0.42% percent or -31.09 point.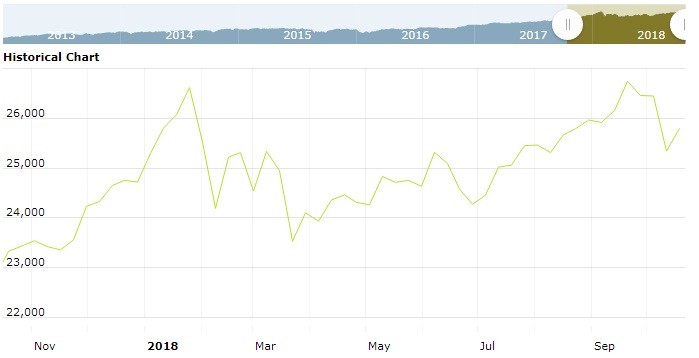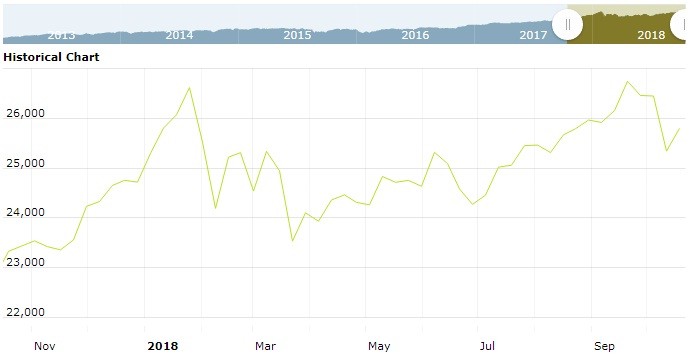 Other leading market index closes included the small-cap Russell 2000 Index closed at 1,526.59  with a loss of -0.84% percent or -12.91 point; the S&P 600 Small-Cap Index closed at 954.45   with a loss of -0.78% percent or -7.49  point; the S&P 400 Mid-Cap Index closed at 1,844.73  with a loss of -0.99% percent or  -18.42 point; the S&P 100 Index closed at 1,225.82 with a loss of -0.42% percent or -5.20 point; the Russell 3000 Index closed at 1,614.03 with a loss of -0.58% percent or  -9.36 point; the Russell 1000 Index closed at 1,513.98 with a loss of  -0.56% percent or -8.46 point;