U.S. stock futures lower  in pre-market trading for , October 25.The Dow Futures is trading at 25,114.00 with a loss of -0.46% percent or -116.00 point.  The S&P 500 Futures is trading at 2,730.50  with a loss of -0.57% percent or -15.75 point. The Nasdaq Futures is trading at 7,090.00 with a loss of -0.70% percent or -50.25 point.
In overnight trading in the Eastern Hemisphere, Japan's Nikkei 225 is trading at 21,268.73 with a loss of -3.72% percent or -822.45 point. Hong Kong's Hang Seng is trading at 24,827.04 with a loss of -1.67% percent or -422.74 point. China's Shanghai Composite is trading at 2,601.11  with a loss of -0.084% percent or  -2.19 point. India's BSE Sensex is trading at 33,678.52  with a loss of -1.04% percent or -355.44 point at 12:15 PM.The FTSE 100 is trading at 6,971.67 up with +0.12% percent or +8.69 point. Germany's DAX is trading at 11,244.00 up with  +0.47% percent or +52.37 point. France's CAC 40 is trading at 5,023.04  up with +1.41% percent or +69.95 point. The Stoxx Europe 600 is trading at 354.43 up with +0.33% percent or +1.18  point.
Thursday's Factors and Events
An increasingly murky macro picture is clouding the 2019 earnings outlook leaving investors to largely shrug off a solid start to the third quarter earnings season," said Alec Young, managing director of global markets research at FTSE Russell. "While valuations have certainly come down in recent weeks, at 16 times forward earnings for the Russell 1000 index, they aren't in the bargain basement by any means, especially if earnings growth slows more than expected next year.
For the day the Dow is trading at 25,191.43 with  a loss of -0.50% percent or  -125.98 point. The S&P 500 is trading at 2,740.69 with a loss of  -0.55% percent or -15.19 point. The Nasdaq Composite is trading at 7,437.54 with a loss of -0.42% percent or -31.09 point.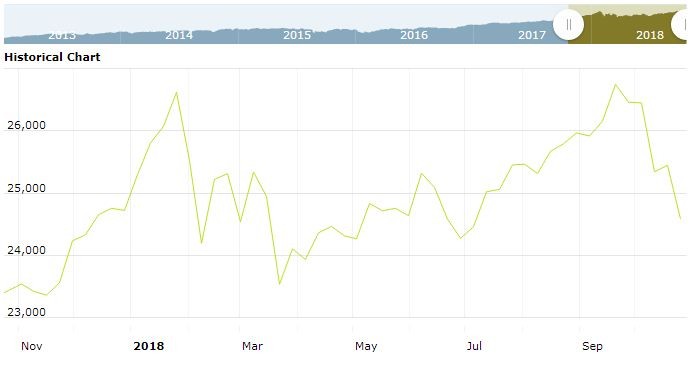 Other leading market index closes included the small-cap Russell 2000 Index closed at 1,526.59  with a loss of -0.84% percent or -12.91 point; the S&P 600 Small-Cap Index closed at 954.45   with a loss of -0.78% percent or -7.49  point; the S&P 400 Mid-Cap Index closed at 1,844.73  with a loss of -0.99% percent or  -18.42 point; the S&P 100 Index closed at 1,225.82 with a loss of -0.42% percent or -5.20 point; the Russell 3000 Index closed at 1,614.03 with a loss of -0.58% percent or  -9.36 point; the Russell 1000 Index closed at 1,513.98 with a loss of  -0.56% percent or -8.46 point;