U.S. stock futures higher  in pre-market trading for , October 31.The Dow Futures is trading at 25,011.00 up with +0.61% percent or +152.00 point. The S&P 500 Futures is trading at 2,704.75  up with +0.73% percent or +19.50 point.The Nasdaq Futures is trading at 6,894.25  up with +1.10% percent or +75.00 point.
In overnight trading in the Eastern Hemisphere, Japan's Nikkei 225 is trading at 21,920.46 up with +2.16% percent or +463.17 point. Hong Kong's Hang Seng is trading at 24,853.95  up with +1.09% percent or +268.42 point. China's Shanghai Composite is trading at 2,602.78 up  with +1.35% percent or  +34.74 point. India's BSE Sensex is trading at 33,961.56 up with +0.21% percent or +70.43 point at 12:15 PM.The FTSE 100 is trading at 7,137.54 up with  +1.45% percent or +101.69 point. Germany's DAX is trading at 11,442.98 up  with  +1.38% percent or +155.59 point. France's CAC 40 is trading at 5,092.85  up with +2.30%  percent or +114.33 point. The Stoxx Europe 600 is trading at 361.28 up with +1.62% percent or +5.75 point.
Wednesday's Factors and Events
U.S. stock index futures pointed to a higher open on Wednesday as solid quarterly results from Facebook lifted sentiment, but the major indexes were still on track to post sharp losses for the month.
At around 7 a.m. ET, Dow Jones Industrial Average futures were up 146 points, indicating a gain of more than 160 points at the open. Futures on the S&P 500 and Nasdaq 100 were also seen relatively upbeat on Wednesday morning.
In an interview with Fox News late on Monday, President Donald Trump said he believed there could be an agreement with China on trade. But he also warned Beijing that his administration had billions of dollars' worth of new tariffs on standby if it became clear a deal would not be possible.
Thursday's Activity
For the day the Dow is trading at 24,874.64  up with +1.77% percent or  +431.72 point. The S&P 500 is trading at 2,682.63 up with +1.57% percent or +41.38 point. The Nasdaq Composite is trading at 7,161.65 up with +1.58% percent or +111.36 point.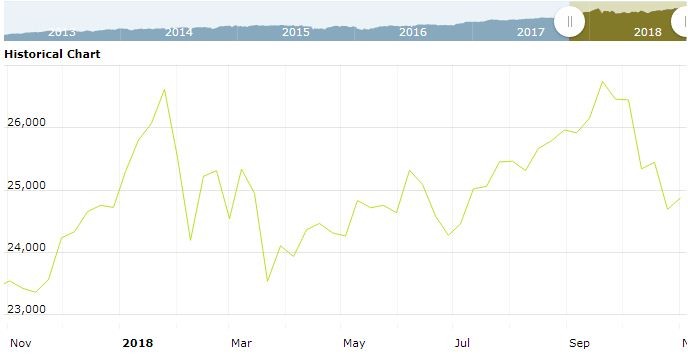 Other leading market index closes included the small-cap Russell 2000 Index closed at 1,477.31  with a loss of -0.44% percent or -6.51 point; the S&P 600 Small-Cap Index closed at 930.09 with a loss of -0.22% percent or -2.06  point; the S&P 400 Mid-Cap Index closed at 1,788.59  with a loss of -0.36% percent or -6.51 point; the S&P 100 Index closed at 1,177.69   with a loss of -0.96% percent or -11.37 point; the Russell 3000 Index closed at 1,555.69  with a loss of  -0.65% percent or -10.25  point; the Russell 1000 Index closed at 1,458.80  with a loss of -0.67% percent or -9.86 point;