U.S. stock futures higher  in pre-market trading for , November 01.The Dow Futures is trading at 25,199.00 up with +0.49% percent or +122.00 point. The S&P 500 Futures is trading at 2,723.25  up with +0.45% percent or +12.25 point.The Nasdaq Futures is trading at 7,003.75  up with +0.40% percent or +28.25 point.
In overnight trading in the Eastern Hemisphere, Japan's Nikkei 225 is trading at 21,687.65  with a loss of -1.06% percent or -232.81 point. Hong Kong's Hang Seng is trading at 25,367.67 up with +1.55% percent or +387.98 point. China's Shanghai Composite is trading at 2,606.24 up  with +0.13% percent or  +3.45 point. India's BSE Sensex is trading at 34,380.02 with a loss of -0.18% percent or -62.03 point at 12:15 PM.The FTSE 100 is trading at 7,136.85  up with  +0.12% percent or +8.75 point. Germany's DAX is trading at 11,525.81 up  with  +0.68% percent or +78.30 point. France's CAC 40 is trading at 5,101.77  up with +0.17%  percent or +8.47 point. The Stoxx Europe 600 is trading at 363.66 up with +0.57% percent or +2.00 point.
Thursday's Factors and Events
stock index futures pointed to a higher start Thursday as Wall Street continued to pare steep losses from last month, led by stronger-than-expected earnings from DowDuPont.
Thursday's moves come after investors capped off a volatile October with a strong two-day rally that saw the Dow surge more than 650 points. But despite the recent rally, the Dow closed last month down 5.1 percent, its biggest one-month fall since January 2016.
Thursday's Activity
For the day the Dow is trading at 25,115.76  up with +0.97% percent or  +241.12 point. The S&P 500 is trading at 2,682.632,711.74 up with +1.09% percent or +29.11 point. The Nasdaq Composite is trading at 7,305.90 up with +2.01% percent or +144.25 point.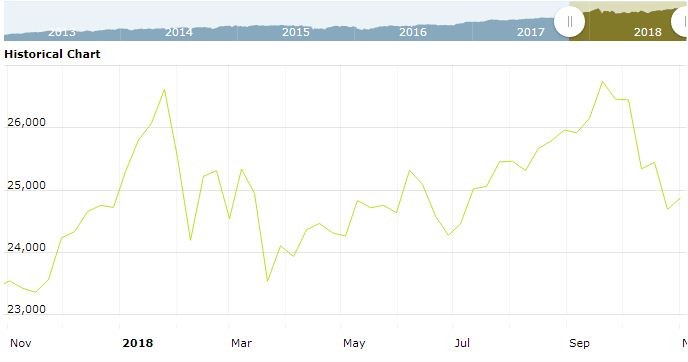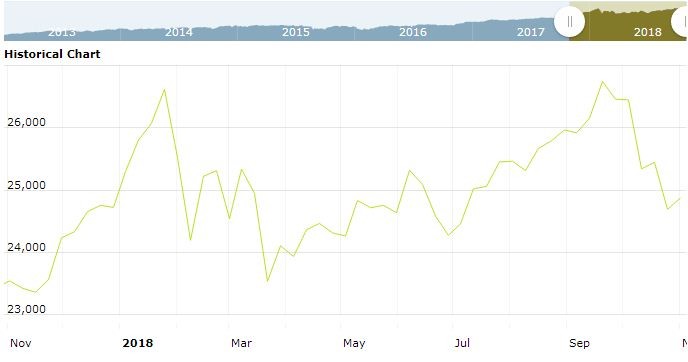 Other leading market index closes included the small-cap Russell 2000 Index closed at 1,511.41 up with +0.32% percent or +4.78 point; the S&P 600 Small-Cap Index closed at 949.96 with a loss of -0.099% percent or -0.94  point; the S&P 400 Mid-Cap Index closed at 1,825.10  up with +0.31% percent or +5.57 point; the S&P 100 Index closed at 1,208.84  up with +1.27% percent or +15.14 point; the Russell 3000 Index closed at 1,597.71  up with +1.07% percent or +16.97 point; the Russell 1000 Index closed at 1,498.65 up with +1.13% percent or +16.80 point;