U.S. stock futures lower  in pre-market trading for , November 27.The Dow Futures is trading at 24,547.00 with a loss of -0.21% percent or -52.00 point.  The S&P 500 Futures is trading at 2,662.25 with a loss of  -0.29% percent or -7.75 point. The Nasdaq Futures is trading at 6,640.75  with  a loss of -0.49% percent or -32.50 point.
In overnight trading in the Eastern Hemisphere,Japan's Nikkei 225 is trading at 21,952.40 up with +0.64% percent or+140.40 point. Hong Kong's Hang Seng is trading at 26,309.32 up with +0.25% percent or +66.86 point. China's Shanghai Composite is trading at 2,574.68  with a loss of -0.044% percent or  -1.13 point. India's BSE Sensex is trading at 35,464.65 up with +0.31% percent or +110.57 point at 12:15 PM.The FTSE 100 is trading at 7,016.25  with a loss of  -0.28% percent or -19.75 point. Germany's DAX is trading at 11,308.45  with  a loss of -0.41% percent or -46.27 point. France's CAC 40 is trading at 4,976.89 with a loss of  -0.36% percent or -18.08  point. The Stoxx Europe 600 is trading at 356.83  with a loss of -0.39% percent or -1.39 point.
Tuesday's Factors and Events
Investors will also be keeping an eye as the ongoing investigation into alleged Russian interference in the 2016 presidential election. In the latest surrounding the probe, U.S. prosecutors alleged Monday that former Trump campaign manager Paul Manafort had lied to investigators, therefore having violated his plea agreement, a court filing indicated. The filing did add however that Manafort disagreed, stating that he believes that he's provided truthful information.
Monday's Activity
For the day the Dow is trading at 24,640.24 up  with +1.46% percent or  +354.29 point. The S&P 500 is trading at 2,673.45 up with +1.55% percent or +40.89 point. The Nasdaq Composite is trading at 7,081.85   up with +2.06% percent or +142.87 point.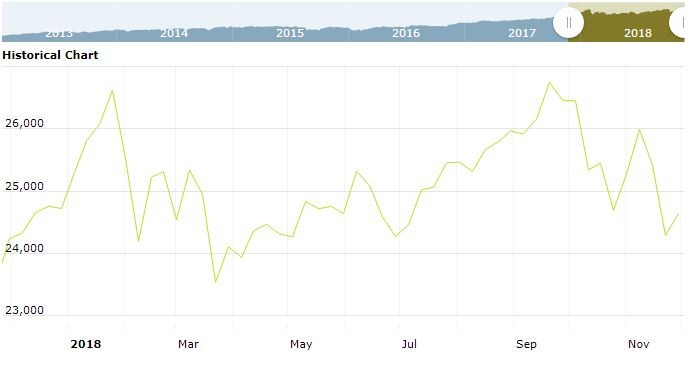 Other leading market index closes included the small-cap Russell 2000 Index closed at 1,505.96  up with  +1.16% percent or +17.28 point; the S&P 600 Small-Cap Index closed at 946.40 up with +0.94% percent or +8.84 point; the S&P 400 Mid-Cap Index closed at 1,847.77  up with +1.25% percent or +22.89 point; the S&P 100 Index closed at 1,180.46 up with +1.64% percent or +19.06 point; the Russell 3000 Index closed at 1,577.84   up with  +1.53% percent or +23.82 point; the Russell 1000 Index closed at 1,478.98  up with +1.56% percent or +22.75 point;