U.S. stock futures lower  in pre-market trading for , November 29.The Dow Futures is trading at 25,278.00  with a loss of -0.26% percent or -66.00 point.  The S&P 500 Futures is trading at 2,733.25 with a loss of  -0.30% percent or -8.25 point. The Nasdaq Futures is trading at 6,883.00  with  a loss of -0.51% percent or -34.50 point.
In overnight trading in the Eastern Hemisphere,Japan's Nikkei 225 is trading at 22,262.60 up with +0.39% percent or+85.58 point. Hong Kong's Hang Seng is trading at 26,483.96  with a loss of -0.74% percent or -198.60 point. China's Shanghai Composite is trading at 2,567.44 with a loss of -1.32% percent or  -34.29 point. India's BSE Sensex is trading at 36,139.01 up with +1.18% percent or +422.06 point at 12:15 PM.The FTSE 100 is trading at 7,052.91 up with +0.71% percent or+49.54 point. Germany's DAX is trading at 11,322.11 up with  +0.21% percent or +23.23 point. France's CAC 40 is trading at 5,013.03 up with +0.60% percent or +29.79  point. The Stoxx Europe 600 is trading at 358.56 up with +0.33% percent or +1.34 point.
Thursday's Factors and Events
Wall Street saw a stellar session on Wednesday, with the Dow Jones Industrial Average closing up over 600 points following a speech by the chair of the Federal Reserve. On Wednesday, Jerome Powell said at an event in New York that he deems the Fed's benchmark interest rate to be close to a neutral level; which marks a step away from comments made in recent months.
Back in October, Powell stated that the U.S. was a "long way" from hitting neutral, when it came to interest rates — which indicated to markets that more rate hikes were on the horizon. Consequently, Powell's comments on Wednesday caused stocks to rise both domestically and overseas.
Wednesday's Activity
For the day the Dow is trading at 25,366.43 up with +2.50% percent or  +617.70 point. The S&P 500 is trading at 2,743.79 up with +2.30% percent or +61.62 point. The Nasdaq Composite is trading at 7,291.59  up with +2.95% percent or +208.89 point.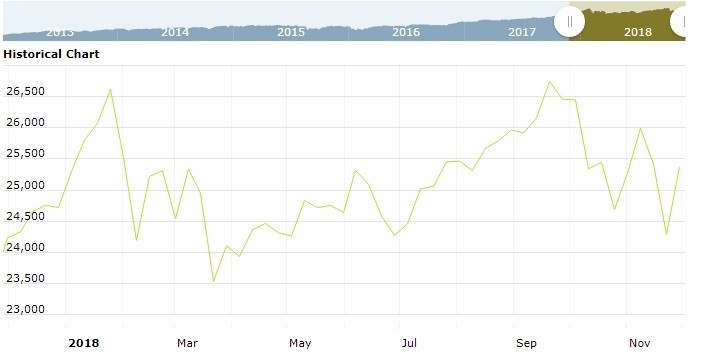 Other leading market index closes included the small-cap Russell 2000 Index closed at 1,530.38  up with  +2.51% percent or +37.53 point; the S&P 600 Small-Cap Index closed at 961.11 up with +2.41% percent or +22.66 point; the S&P 400 Mid-Cap Index closed at 1,868.96  up with +1.96% percent or +35.88 point; the S&P 100 Index closed at 1,216.09 up with +2.49% percent or +29.54 point; the Russell 3000 Index closed at 1,616.59   up with  +2.32% percent or +36.71 point; the Russell 1000 Index closed at 1,516.27  up with +2.31% percent or +34.22 point;