U.S. stock futures lower  in pre-market trading for , December 04.The Dow Futures is trading at 25,725.00  with a loss of -0.47% percent or -121.00 point. The S&P 500 Futures is trading at 2,781.50  with a loss of -0.33% percent or -9.25 point.  The Nasdaq Futures is trading at 7,024.50  with a loss of -2.47% percent or -33.75 point.
In overnight trading in the Eastern Hemisphere, Japan's Nikkei 225 is trading at 22,036.05 with a loss of -2.39% percent or -538.71 point. Hong Kong's Hang Seng is trading at 27,169.57   with  a loss of -0.046% percent or -12.47 point. China's Shanghai Composite is trading at 2,665.96 up with +0.42%  percent or  +11.16 point. India's BSE Sensex is trading at 36,065.91  with a loss of  -0.47% percent or -170.81 point at 12:15 PM.The FTSE 100 is trading at 7,028.82  with a loss of  -0.48% percent or -33.59 point. Germany's DAX is trading at 11,403.84 with a loss of -0.54% percent or -61.62 point. France's CAC 40 is trading at 5,032.89 with a loss of -0.42% percent or -21.09  point. The Stoxx Europe 600 is trading at 360.20   with a loss of  -0.28% percent or -1.03 point.
Tuesday's Factors and Events
Stock futures pointed to a negative open on Tuesday amid questions over whether the U.S.-China trade agreement will resolve the two countries' dispute in the long term.
The U.S. and China have been engaged in a tense sparring match over trade, with both countries hitting each other's economies with levies on imported goods. Trump's administration has so far slapped tariffs on $250 billion worth of Chinese imports, while Chinese President Xi Jinping's government has imposed tariffs on $110 billion in U.S. goods
Monday's Activity
For the day the Dow is trading at 25,826.43  up with +1.13% percent or +287.97 point. The S&P 500 is trading at 2,790.37 up  with +1.09% percent or +30.20 point. The Nasdaq Composite is trading at 7,441.51  up with +1.51% percent or +110.98 point.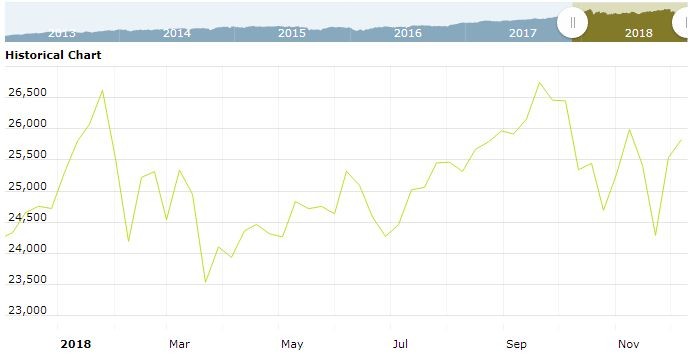 Other leading market index closes included the small-cap Russell 2000 Index closed at 1,548.96 up with +1.02% percent or +15.69  point; the S&P 600 Small-Cap Index closed at 969.77 up with +0.71% percent or +6.82 point; the S&P 400 Mid-Cap Index closed at 1,895.32 up with  +0.89% percent or +16.67 point; the S&P 100 Index closed at 1,238.63 up with +1.10% percent or +13.44 point; the Russell 3000 Index closed at 1,643.90  with +1.10% percent or +17.91 point; the Russell 1000 Index closed at 1,542.45  up with +1.11% percent or +16.89 point;