U.S. stock futures lower  in pre-market trading for , December 06.The Dow Futures is trading at 24,650.00  with a loss of -1.58% percent or -396.00 point. The S&P 500 Futures is trading at 2,660.62  with a loss of -1.52% percent or -41.13 point.The Nasdaq Futures is trading at 6,652.00  with a loss of  -2.22 percent or -151.25 point.
In overnight trading in the Eastern Hemisphere, Japan's Nikkei 225 is trading at 21,501.62 with a loss of -1.91% percent or -417.71 point. Hong Kong's Hang Seng is trading at 26,098.07  with  a loss of -2.69% percent or -721.61 point. China's Shanghai Composite is trading at 2,605.18 with  a loss of -1.68%  percent or  -44.62 point. India's BSE Sensex is trading at 35,556.84  with a loss of  -0.90% percent or -322.53 point at 12:15 PM.The FTSE 100 is trading at 6,746.62  with a loss of  -2.53% percent or -2.53% point. Germany's DAX is trading at 10,926.48 with a loss of -2.44% percent or -273.76 point. France's CAC 40 is trading at 4,826.54 with a loss of -2.38% percent or -117.82 point. The Stoxx Europe 600 is trading at 346.16   with a loss of  -2.29% percent or -8.16  point.
Thursday's Factors and Events
The flattening yield curve caused investors to bail on bank stocks on concern the phenomenon may hurt their lending margins. The SPDR S&P Bank ETF (KBE) dropped 5.3 percent. Shares of J.P. Morgan Chase, Citigroup and Bank of America all declined more than 4 percent. Citigroup and Morgan Stanley both reached 52-week lows along with Regionals Financial, Citizens Financial and Capital One.
"No good deed goes unpunished," said Art Hogan, chief market strategist at B. Riley FBR. "As we get headwinds from trade worries fading, you get an inverted yield curve and another brick added to the market's wall of worry.
Wednesday's Activity
For the day the Dow is trading at 25,027.07 with a loss of -3.10% percent or -799.36 point. The S&P 500 is trading at 2,700.06 with a loss of            -3.24% percent or -90.31 point. The Nasdaq Composite is trading at 7,158.43   with a loss of  -3.80% percent or -283.09 point.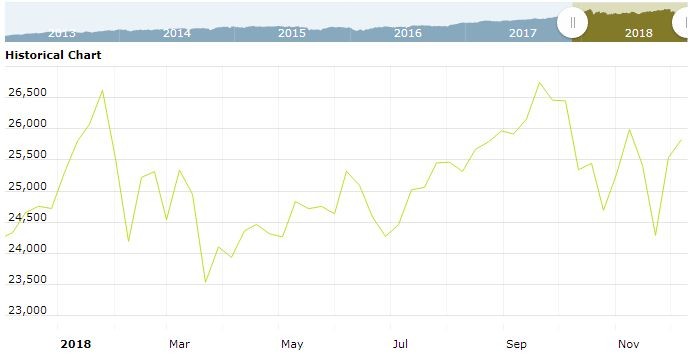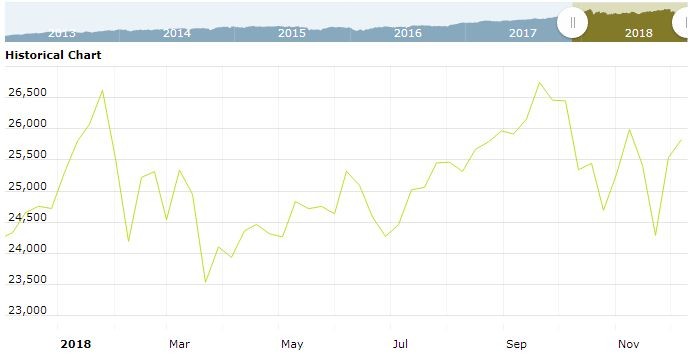 Other leading market index closes included the small-cap Russell 2000 Index closed at 1,480.75 with a loss of -4.40% percent or ?68.21  point; the S&P 600 Small-Cap Index closed at 925.06  with a loss of -4.61% percent or -44.71 point; the S&P 400 Mid-Cap Index closed at 1,826.62  with a loss of – 3.62% percent or -68.70 point; the S&P 100 Index closed at 1,197.48  with a loss of -3.32% percent or -41.15 point; the Russell 3000 Index closed at 1,589.08  with a loss of -3.34% percent or -54.83 point; the Russell 1000 Index closed at 1,492.29  with a loss of -3.25% percent or -50.16 point;