U.S. stock futures lower  in pre-market trading for , December 07.The Dow Futures is trading at 24,833.00  with a loss of -0.30% percent or -74.00 point.  The S&P 500 Futures is trading at 2,682.62 with a loss of -0.31% percent or -8.38 point.The Nasdaq Futures is trading at 6,802.50  with a loss of  -0.32% percent or -20.00 point.
In overnight trading in the Eastern Hemisphere, Japan's Nikkei 225 is trading at 21,678.68 up with +0.82% percent or +177.06 point. Hong Kong's Hang Seng is trading at 26,166.40  up with +0.038% percent or +10.02 point. China's Shanghai Composite is trading at 2,605.89 up with  +0.027% percent or  +0.71 point. India's BSE Sensex is trading at  35,516.54 up with +0.58% percent or +204.99 point at 12:15 PM.The FTSE 100 is trading at 6,808.57  UP with +1.56% percent or -104.52 point. Germany's DAX is trading at 10,896.40  up with 0.79% percent or +85.42 point. France's CAC 40 is trading at 4,845.77 up  with +1.37% percent or -65.32 point. The Stoxx Europe 600 is trading at 347.84  up with +1.33% percent or +1.33% point.
Friday's Factors and Events
The Wall Street Journal reported the central bank is considering whether to signal a wait-and-see approach to rate hikes at its upcoming meeting this month. The report said Fed officials do not know what their next move on rates will be after December. As a result, The Dow Jones Industrial Average closed 79.40 points lower at 24,947.67 after plunging nearly 800 points earlier in the day.
On the data front, investors will be keeping a close watch on nonfarm payrolls, a key metric for Fed policy, due at 8.30 ET. At the same time, there will also be unemployment numbers.
Thursday's Activity
For the day the Dow is trading at 24,947.67 with a loss of -0.32% percent or -79.40 point. The S&P 500 is trading at 2,695.95 with a loss of – 0.15% percent or -4.11 point. The Nasdaq Composite is trading at 7,188.26  up with +0.42% percent or +29.83 point.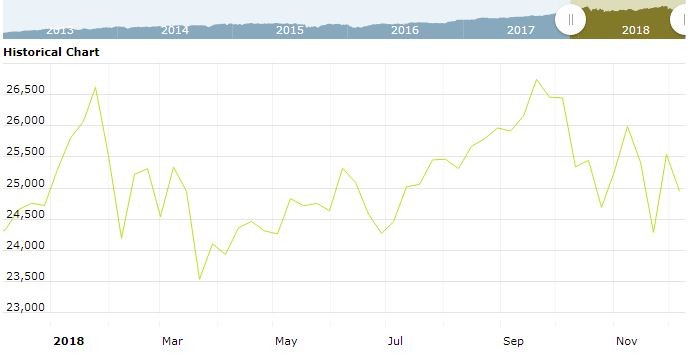 Other leading market index closes included the small-cap Russell 2000 Index closed at 1,477.41 with a loss of -0.23% percent or ?3.34 point; the S&P 600 Small-Cap Index closed at 922.43  with a loss of -0.28% percent or -2.63 point; the S&P 400 Mid-Cap Index closed at 1,817.48  with a loss of – 0.50% percent or -9.14 point; the S&P 100 Index closed at 1,196.20  with a loss of -0.11% percent or -1.28 point; the Russell 3000 Index closed at 1,587.18 with a loss of -0.12% percent or -1.89 point; the Russell 1000 Index closed at 1,490.64 with a loss of -0.11% percent or -1.66  point;