U.S. stock futures lower  in pre-market trading for , December 21.The Dow Futures is trading at 22,846.00 with  a loss of -0.66% percent or -151.00 point. The S&P 500 Futures is trading at 2,469.00 with a loss of -0.69% percent or -17.25 point.The Nasdaq Futures is trading at 6,277.00  with a loss of -0.76% percent or -48.25 point.
In overnight trading in the Eastern Hemisphere, Japan's Nikkei 225 is trading at 20,166.19   with a loss of -1.11% percent or -226.39 point. Hong Kong's Hang Seng is trading at 25,683.81  up with +0.24% percent or +60.28 point. China's Shanghai Composite is trading at 2,514.58  with a loss of -0.86% percent or  -21.69 point. India's BSE Sensex is trading at 36,074.01 with a loss of  -0.98% percent or -357.66 point at 12:15 PM.The FTSE 100 is trading at 6,677.76 with  a loss of -0.51% percent or -34.17 point. Germany's DAX is trading at 10,549.43  with a loss of -0.58% percent or -61.67 point. France's CAC 40 is trading at 4,645.76  with a loss of -1.00% percent or -46.69 point. The Stoxx Europe 600 is trading at 334.05  with a loss of  -0.77% percent or -2.56  point.
Friday's Factors and Events
"The Fed doesn't care about the stock market within 400 SPX (S&P 500) points," Tepper added in the email. "It's the real economy, stupid."
For traders, the Fed's statement and Chairman Jerome Powell's subsequent press conference on Wednesday did not suggest that the central bank would slow its pace of rate hikes as quickly as some had hoped. Many market participants cited the Fed's decision to allow its balance sheet to run off at its current pace as reason for the market volatility.
Thursday's Activity
For the day the Dow is trading at 22,859.60  with a loss of  -1.99% percent or -464.06 point. The S&P 500 is trading at 2,467.42  with  a loss of -1.58% percent or -39.54 point. The Nasdaq Composite is trading at 6,528.41  with a loss of -1.63% percent or -108.42 point.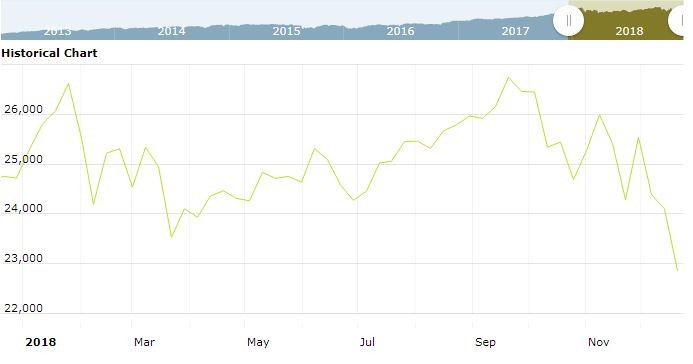 Other leading market index closes included the small-cap Russell 2000 Index closed at 1,326.00  with a loss of -1.72% percent or -23.23 point; the S&P 600 Small-Cap Index closed at 828.10 with a loss of -1.47% percent or -12.36  point; the S&P 400 Mid-Cap Index closed at 1,644.33  with a loss of -1.28% percent or -21.39 point; the S&P 100 Index closed at 1,096.36 with  a loss of -1.54% percent or -17.19 point; the Russell 3000 Index closed at 1,448.56  with a loss of -1.60% percent or -23.62 point; the Russell 1000 Index closed at 1,448.56  with a loss of  -1.60% percent or -23.62 point;