U.S. stock futures higher  in pre-market trading for , December 24.The Dow Futures is trading at 22,490.00 up with +0.37% percent or +83.00 point. The S&P 500 Futures is trading at 2,426.00 up with +0.52% percent or +12.50 point.The Nasdaq Futures is trading at 6,103.75 up with +0.74% percent or +44.75 point.
In overnight trading in the Eastern Hemisphere, Japan's Nikkei 225 is trading at 20,166.19   with a loss of -1.11% percent or -226.39 point. Hong Kong's Hang Seng is trading at 25,651.38   with a loss of -0.40% percent or -102.04 point. China's Shanghai Composite is trading at 2,527.01 up with +0.43% percent or  +10.76 point. India's BSE Sensex is trading at 35,749.81 up with +0.022% percent or +7.74 point at 12:15 PM.The FTSE 100 is trading at 6,689.72 with  a loss of -0.47% percent or -31.45 point. Germany's DAX is trading at 10,633.82  up with +0.21% percent or +22.72 point. France's CAC 40 is trading at 4,639.57 with a loss of -1.17% percent or -54.81 point. The Stoxx Europe 600 is trading at 334.84  with a loss of  -0.54% percent or -1.80 point.
Monday's Factors and Events
Dow Jones Industrial Average futures rose 144 points, implying an opening gain for the Dow of 115 points, as of 2:30 a.m. ET Monday. They had earlier fallen shortly after the open of trading. S&P 500 futures and Nasdaq 100 futures also pointed to gains at the open.
Last Wednesday, the Federal Reserve raised its benchmark interest rate for a fourth time this year and Chairman Jerome Powell signaled the central bank would continue to unwind its balance sheet at the current pace. The two monetary tightening actions are driving the stock market declines, traders say.
Friday's Activity
For the day the Dow is trading at 22,445.37  with a loss of  -1.81% percent or -414.23 point. The S&P 500 is trading at 2,416.62  with  a loss of -2.06% percent or -50.80 point. The Nasdaq Composite is trading at 6,332.99  with a loss of -2.99% percent or  -195.41 point.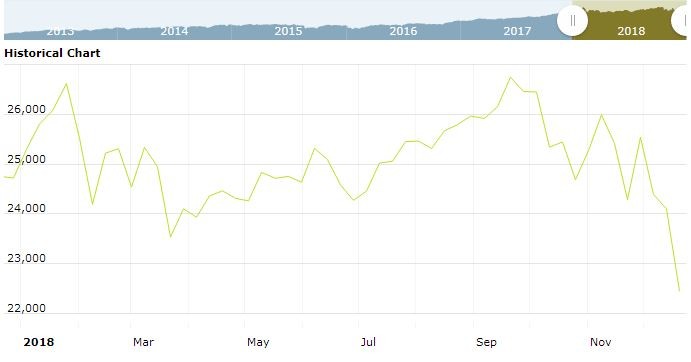 Other leading market index closes included the small-cap Russell 2000 Index closed at 1,292.09  with a loss of -2.56% percent or -33.92  point; the S&P 600 Small-Cap Index closed at 809.61 with a loss of -2.23% percent or -18.49  point; the S&P 400 Mid-Cap Index closed at 1,611.35  with a loss of -2.01% percent or -32.98 point; the S&P 100 Index closed at 1,071.32 with  a loss of -2.28% percent or -25.04 point; the Russell 3000 Index closed at 1,418.06  with a loss of -2.11% percent or -30.51 point; the Russell 1000 Index closed at 1,333.95  with a loss of  -2.07% percent or -28.23 point;