U.S. stock futures higher  in pre-market trading for , January 15.The Dow Futures is trading at 23,937.50 up with +0.30% percent or +70.50 point.  The S&P 500 Futures is trading at 2,586.12  up with +0.22% percent or +5.62 point. The Nasdaq Futures is trading at 6,570.75  up with +0.39% percent or +25.75 point.
In overnight trading in the Eastern Hemisphere, Japan's Nikkei 225 is trading at 20,555.29  up with +0.96% percent or +195.59 point. Hong Kong's Hang Seng is trading at 26,781.45  up with +1.84% percent or +83.12 point. China's Shanghai Composite is trading at 2,570.07 up  with +1.35% percent or  +34.30 point. India's BSE Sensex is trading at 36,203.42  up with +0.98% percent or +349.86 point at 12:15 PM.The FTSE 100 is trading at 6,876.57  UP with  +0.31% percent or +21.55 point. Germany's DAX is trading at 10,866.26   up  with +0.095% percent or +10.35 point. France's CAC 40 is trading at 4,773.51   up with +0.23% percent or +10.76 point. The Stoxx Europe 600 is trading at 348.15 up with +0.18% percent or +0.64 point.
Tuesday's Factors and Events
The data put pressure on global equities, which broke off from last week's rally on Monday. Equities stateside kicked off 2019 with strong gains, rebounding from a sell-off last month that briefly pushed the S&P 500 index into bear market territory.
Meanwhile, earnings season is in full swing, with investors keenly watching out for results from Wall Street titans J.P. Morgan and Wells Fargo for clues as to how they fared during last month's market volatility. Citigroup was the first major U.S. bank to report revenues on Monday, posting fourth-quarter profitthat beat analyst expectations — still, its fixed-income revenue fell 21 percent from the previous year as trading conditions deteriorated.
Monday's Activity
For the day the Dow is trading at 23,909.84 with a loss of -0.36% percent or -86.11 point. The S&P 500 is trading at 2,582.61  with a loss of -0.53% percent or -13.65 point. The Nasdaq Composite is trading at +6,905.92 with a loss of -0.94% percent or -65.56 point.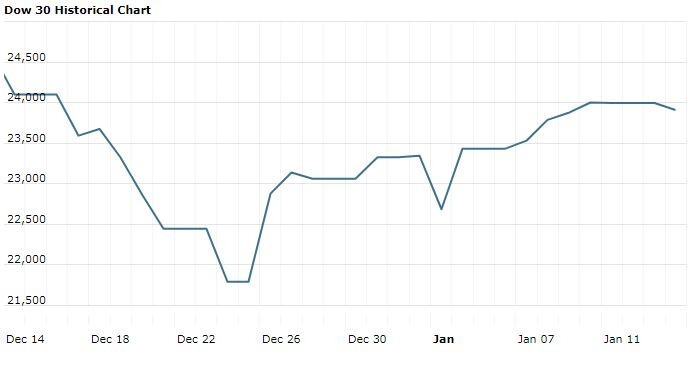 Other leading market index closes included the small-cap Russell 2000 Index closed at 1,432.81  with a loss of -1.01% percent or -14.57 point; the S&P 600 Small-Cap Index closed at 894.06  with a loss of  -0.88% percent or -7.97  point; the S&P 400 Mid-Cap Index closed at 1,753.17  with a loss of -0.59% percent or -10.45 point; the S&P 100 Index closed at 1,143.95  with a loss of -0.47% percent or -5.40 point; the Russell 3000 Index closed at 1,523.01  up with +0.58% percent or +8.87 point; the Russell 1000 Index closed at 1,429.15  with a loss of  -0.55% percent or -7.84 point