U.S. stock futures higher  in pre-market trading for , January 16.The Dow Futures is trading at 24,053.50 up with +0.29% percent or +69.50 point.  The S&P 500 Futures is trading at 2,612.12  up with +0.25% percent or +6.62 point.The Nasdaq Futures is trading at 6,679.88  up with +0.05% percent or +3.13 point.
In overnight trading in the Eastern Hemisphere, Japan's Nikkei 225 is trading at 20,442.75 with a loss of -0.55% percent or -112.54 point. Hong Kong's Hang Seng is trading at 26,860.31  up with +0.11% percent or +30.02 point. China's Shanghai Composite is trading at 2,570.38 up  with +0.0015% percent or  +0.039 point. India's BSE Sensex is trading at 36,381.96  up with +0.18% percent or +63.63 point at 12:15 PM.The FTSE 100 is trading at 6,863.96 with a loss of -0.45% percent or -1.06 point. Germany's DAX is trading at 10,888.00 with a loss of -0.035% percent or -3.79 point. France's CAC 40 is trading at 4,797.02   up with +0.23% percent or +10.85 point. The Stoxx Europe 600 is trading at 349.43 up with +0.24% percent or +0.86 point.
Wednesday's Factors and Events
The prime minister told Parliament's lower chamber that her Conservative government "will listen" to lawmakers' concerns over the deal following the vote. The government will make a statement in the Parliament on Jan. 21, where she is expected to present a "plan B" for the divorce agreement.
Jeremy Corbyn, the leader of the opposition Labour Party, tabled a motion of no-confidence in the government, which will be debated and voted on Wednesday. Sterling gained 0.1 percent against the dollar during morning trade, last changing hands at $1.2871.
Tuesday's Activity
For the day the Dow is trading at 24,065.59 up with +0.65% percent or +155.75 point. The S&P 500 is trading at 2,610.30 up with +1.07% percent or +27.69 point. The Nasdaq Composite is trading at +7,023.83 up with +1.71% percent or +117.92 point.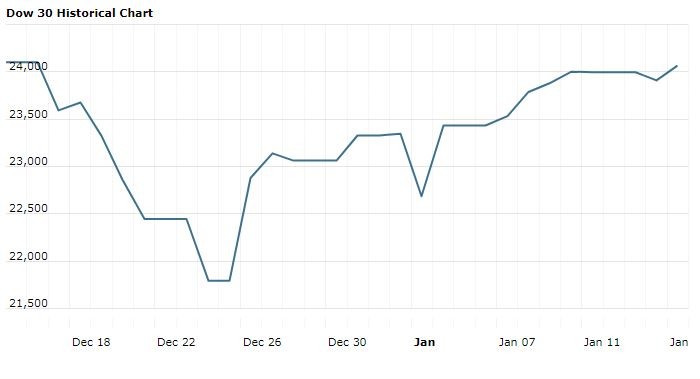 Other leading market index closes included the small-cap Russell 2000 Index closed at 1,445.22  up with +0.87% percent or +12.40 point; the S&P 600 Small-Cap Index closed at 899.77 up with +0.64% percent or +5.71  point; the S&P 400 Mid-Cap Index closed at 1,763.90 up with +0.61% percent or +10.73 point; the S&P 100 Index closed at 1,157.45  up with +1.18% percent or +13.50 point; the Russell 3000 Index closed at 1,538.77  up with +1.04% percent or + 15.76 point; the Russell 1000 Index closed at 1,444.13  up with +1.05% percent or +14.98 point.