U.S. stock futures lower  in pre-market trading for Friday, September 28.The Dow Futures is trading at 26,421.00  with a loss of  -0.20% percent or  -52.00 point.The S&P 500 Futures is trading at 2,915.00 with a loss of  -0.17% percent or -5.00 point.The Nasdaq Futures is trading at 7,642.50  with  a loss of -0.19% percent or -14.75 point.
In overnight trading in the Eastern Hemisphere, Japan's Nikkei 225 is trading at 24,120.04 up with +1.36% percent or +323.30 point. Hong Kong's Hang Seng is trading at 27,726.89 up with 0.040% percent or +11.22 point. China's Shanghai Composite is trading at 2,821.35  up with +1.06% percent or  +29.58 point. India's BSE Sensex is trading at 36,399.09 up with  +0.21% percent or +74.92 point at 12:15 PM.The FTSE 100 is trading at 7,494.31 with  a loss of -0.68% percent or -51.13 point. Germany's DAX is trading at 12,270.74 with a loss of – 1.33% percent or -164.85 point. France's CAC 40 is trading at 5,497.99   with a loss of -0.77% percent or  -42.41 point. The Stoxx Europe 600 is trading at 383.70  with a loss of  -0.69% percent or -2.67 point.
Friday's Factors and Events
U.S. government debt prices posted slight gains on Friday.
As another week draws to a close, investors in the bond market will be turning their attention to the slew of economic data due out on Friday. At 8:30 a.m. ET, personal income, consumer spending and core PCE figures are due, followed by Chicago purchasing managers' index data at 9:45 a.m. ET and consumer sentiment at 10 a.m. ET.
Investors will likely still be digesting comments made by the head of the U.S. Federal Reserve. On Thursday, Fed Chairman Jerome Powell said in Washington that there was not a high chance of the U.S. economy facing a recession in the next two years, while adding that the central bank would continue to gradually increase rates; Reuters reported.
For the day the Dow is trading at 26,439.93  up with +0.21% percent or +54.65 point. The S&P 500 is trading at 2,914.00 up with +0.28% percent or +8.03 point. The Nasdaq Composite is trading at 8,041.97 up with +0.65% percent or +51.60 point.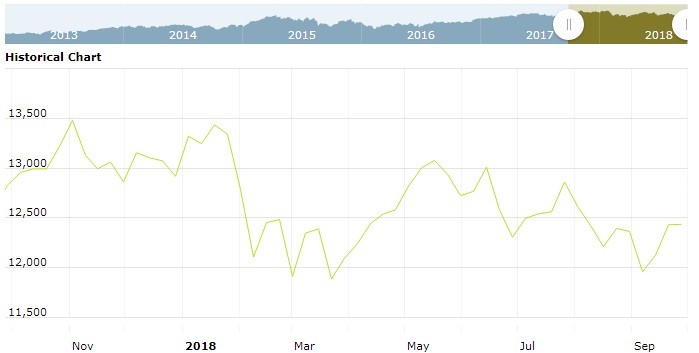 Other leading market index closes included the small-cap Russell 2000 Index closed at 1,690.53   with a loss of  -0.064% percent or -1.08 point; the S&P 600 Small-Cap Index closed at 1,057.62  with a loss of -0.040% percent or  -0.42 point; the S&P 400 Mid-Cap Index closed at 2,012.69  up with +0.027% percent or +0.55 point; the S&P 100 Index closed at 1,295.32  up with  +0.41% percent or +5.24  point; the Russell 3000 Index closed at 1,725.83 up with +0.24% percent or +4.15 point; the Russell 1000 Index closed at 1,614.32 up with  +0.27% percent or +4.28 point;